Hough & Helix & Where & Here & You, You, You
by Lea Graham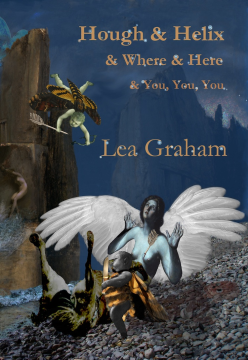 ISBN: 978-0-9826000-2-3 Publication Date: August 2011 68 pages $14.99 (print)
Buy at Lulu and Save 15%!<(MISSING)/a>
Available as an eBook (PDF) for $4.99
Also available at B&N, Powells, Amazon and other retail outlets
What People are Saying about Hough & Helix & Where & Here & You, You, You:
Hough & Helix & Where & Here & You, You, You, creates energy by relentlessly kneading its central questions. It mixes sophisticated word choice with images gleaned from mythology and popular culture, but these blur past the reader, like images seen through the window of a train. —Sean Singer discusses why he selected Hough & Helix & Where & Here & You, You, You for the Rumpus Poetry Book Club

With a wonderful lyric intensity, Hough & Helix & Where & Here & You, You, You reveals our luscious world. Graham has a voice, and it sings. —Claudia McQuistion reviews Hough & Helix at storySouth

. . . a steady thematic thumping of sex and want, a rhythmic book of push and drive. —J.A. Tyler reviews Hough & Helix at PANK Magazine
Do we slight desire when we say crush? No, Lea Graham seems to answer, we praise it. Less like a reservoir of recollection than a synaptic centrifuge, Hough & Helix spins and strains the blood rush of our days and words until all that remains is their compacted essential elemental charge—the poems flash and flirt on the page, surging like the "million tiny lightening storms" within us. In playfully fresh language and crisp images, this speaker collapses time and space, elegy and ode, as Latinate diction beds down with slang. A raw sexuality and emotion—think Brando and Elvis and The Venus of Willendorf—haunt the collection the way Wayne C. Booth haunts The Craft of Research. —Kathleen Graber

In moments palpably electric and wild with desire from cover to cover, Lea Graham's collection of "crushes" radiates enormous heat and wisdom. When she writes, "I used to hide wings & eggs/damaged things. . . beneath the house," and describes a month as being, "of wool & wolves & wolf whistles," I want nothing more than to go where she goes, to dig up these treasures, savoring each line—I'm simply in awe of the delicious music here. —Aimee Nezhukumatathil

The voices, the presences, convened here are astonishing. Sappho, Neruda, the Venus of Willendorf, Diane Arbus, Marlon Brando, Mrs. Robinson, Marian Anderson, the Everley Brothers, Aphrodite and a recurrent, benevolent Velvet Elvis, all drawn into the swirl of these wonderfully rich, energetic poems. In this poetic sequence, each poem is called a Crush, and Graham means each to have at least the double sense of the word—of uncontrollable infatuation and desire and of destructiveness, to have a crush on and to be crushed, to crumple or grind down, to subdue or be subdued. These double and redoubling forces are, for Graham, essential to perception and affection, grace and need, voiced at times by the poetry of the past but as often by the passing tatters of popular music and the movies. —Michael Anania

Many of these poems have the word "crush" in their texts or titles, and from this book onward "crush" is a word that Lea Graham has a kind of patent on. Graham, in fact, has a passionate crush on life, and we all know that even the most adolescent of crushes can suddenly turn to real love. Because of that, we as readers have a crush on Graham and her work, which is vivid and lively and smart. Beneath all the fun in this writing, there's insight and depth and even sadness. —John Matthias

Hough & Helix is a book of attraction, of valentines, of love spells and rumination, of desire, anger and abandon. Bright and witty, it's also vatic and magisterial at turns—okay, maybe it's a little like Mina Loy's Songs for Johannes, the world of "Pig Cupid." Lea Graham has opened a loveland in which female pleasure resides in a coruscated syntax of particular nouns, verbs, adjectives and commands. —Kevin Killian

Reader, consider Lea Graham's astonishing poems: language fresh from the apocalypse. But also fresh from the oven. Crusty and crunchy. Compelling our senses into thought. Filling our terror with appetite. Daring the body to desire. —Robert Kroetsch


Crush #421
It was one of those years: fallow, dry, insipid, an exsiccative fall breeding winter, torrefying, glistening, sluggish. Afternoons withered talk-less, nothing to story. Words crackled off stalks, blown to corners; phrases like dust motes, ephemeral, a feverish child. Parched, exhausted without tale or romance, idyll, pastoral. Even the song drained, the chant emptied. A message appeared in my inbox: armpit & luminescent & hoary. That was all it took. I woke greening like Stanley Park. Words kept coming: pudenda, tuber, torus, cavetto, arcing Mombasa's rooftops; rocking & rolling, a dhow on the Indian Ocean; bursting the cracks of Ashland Ave., taken for a Near West-Side hooker disguised as a school girl: gob smacked, corm, hough & helix & where & here & you, you, you. Then oh god & desperately & make a clean breast of, wilting righteous, sprawling before me. I slouched in internet cafes talking to rain, my inbox empty. Alone, waterfalls read Prohibir Actividades Amorosas & college kids from Poughkeepsie bought the beer: Pollution is a dirty means to a radiant sunset like your smile & You must be tired—you've been running through my mind all night & Wanna fuck? Crossed legs on a bus back to the city through cloud forests; rivering, their stories germinated, coalesced—what grows shared—bromeliads, bougainvillea, bleeding hearts: bract & spine, caudex & corolla, stamen, calyx, carpel. Sitting at a bar next to a man with hair the color of speech & honey & semen, his appetite straight-up Dionysian. He said: You're hot.